TOGAF® Essentials 2018
Attend TOGAF Essentials 2018 training and acquire this essential new badge from The Open Group
Enquire Today
The Easy Path to TOGAF® standard, version 9.2 for TOGAF® 9 Certified Professionals.
Make sure employer and clients know your TOGAF® framework knowledge is up to date and aligned with TOGAF® 9.2
CC&C TOGAF® Training is Different!
CC&C has been a leader in The Open Group's Architecture Forum and the global EA community for more than 17 years. Thousands of the world's EA practitioners, in some of the largest companies and services firms, learned TOGAF from CC&C.
TOGAF®, ArchiMate® 3 and IT4IT™ are registered trademark of The Open Group.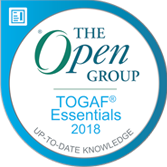 Quick facts

Duration
4 Hours
Delivery Method
Virtual Online
Prerequisites

TOGAF 9.1 Certification

Examination
Yes
Certification
Yes
Course objective
The four-hour course covers highlights of the TOGAF Standard, Version 9.2 and the major differences between 9.1 and 9.2:
Changes to the structure of the TOGAF standard and the importance of the TOGAF Library
Additions to the Business Architecture domain
Changes introduced in ISO/IEC/IEEE 42010:2011 and the consequent changes to TOGAF
Changes to the TOGAF Content Framework and Metamodel
Changes to security considerations during application of the ADM
Changes in the structure of the TOGAF Body of Knowledge
Changes to several key terms and definitions
Who Should Attend
Individuals who are TOGAF 9 certified and wish to prove up-to-date knowledge of the 2018 version of the TOGAF Body of Knowledge
Individuals who are trainers delivering Accredited Training Courses based on the TOGAF Standard, Version 9.2
How to Earn the Open Badge
The Open Group is pleased to announce the availability of our Open Badge program for the professional certification programs. To earn an open badge TOGAF Essentials 2018 credential you must attend an accredited TOGAF Essentials 2018 classroom or virtual training and pass an online assessment consisting of 20 multiple-choice questions.
Open Badges are a means for an individual to display, and for an organization easily to verify, certifications, achievements and credentials in a very visual manner online. For example, digital badges are used in popular social media platforms such as LinkedIn, Twitter and Facebook. You may also embed badges into your websites, e-mail footers or resumes.
These credentials are represented with a digital image which contains verified metadata that describes an individual's qualifications and the process required to earn them. A credential is a qualification, achievement, quality, or aspect of a person's background, especially when used to indicate their suitability for something.