TOGAF® Practitioner
Based on the Updated TOGAF® Standard, 10th Edition
TOGAF is a registered trademark of The Open Group
View TOGAF® Calendar
TOGAF is a registered trademark of The Open Group
TOGAF® Enterprise Architecture Practitioner is the most up-to-date TOGAF certification, reflecting the many enhancements and updates found in The TOGAF Standard, 10th Edition, released in 2022.
The core TOGAF Body of Knowledge has been extended to include modern concerns such as agile architecture, digital transformation and the Digital Enterprise, capability based planning, fully integrated risk and security and much more.
Earn your TOGAF Practitioner certificate with our expert trainers: Experienced architects who will teach you not only the What, but also the Why of Enterprise Architecture.
Why TOGAF Certification?
The TOGAF® Standard is the open Enterprise Architecture standard used by the world's leading organizations to effectively align IT investment with business goals to optimize business value.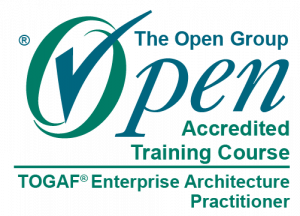 TOGAF certification is a requirement for many job roles, and is often the key to better compensation and advancement opportunities. Understanding the language and methods of Enterprise Architecture is important for success in many related roles.
The Open Group TOGAF certification is:
Used by the world's leading enterprises to certify a common body of core knowledge about the methodology and framework
A trusted, vendor-neutral, globally recognized and portable credential
Valuable in demonstrating to employers and peers your commitment to enterprise architecture as a discipline
An outstanding career move and a foundational certification in the career of any Enterprise Architect
The TOGAF® Enterprise Architecture Practitioner certification demonstrates your commitment to professional development and provides credibility to employers.
Course Objective
The purpose of certification for TOGAF Practitioner is to provide validation, knowledge and comprehension of the TOGAF Standard, 10th Edition. Upon completion of this course, the candidate should be able to analyze and apply this knowledge to their day-to-day work and to successfully complete the TOGAF Foundation and Practitioner Exams.
Learning Outcome
The course and exams focus on ensuring your ability to explain and apply these fundamental TOGAF concepts:
The Concepts of Enterprise Architecture and the TOGAF Standard
The Context for Enterprise Architecture
Key Definitions: The Language of Architecture
The Architecture Development Method (ADM)
ADM Techniques
Architecture Content: ADM Outputs
Applying the ADM
Stakeholder Management
Executing the Architecture Vision phase
Business Architecture Guidelines and Techniques
Developing Business, Data, Application and Technology Architectures
Implementing the Architecture
Architecture Governance
Architecture Requirements Management
Architecture Change Management
Who Should Attend
Designed for IT professionals who need the most current TOGAF certification, and who want to learn from a genuine, experienced Enterprise Architect. Practitioners in the following roles will find it useful in their work and also helpful in moving to the next level on a natural career progression:
● Experienced Developers

● Business Architects

● Enterprise Architects

● Business Architects

● Program/ Project Managers

● Business Analysts

● Solution Architects

● Application Architects

● Data Architects

● Information Architects

● Infrastructure Architects

● Security Architects

● Organizations that embark / implementing EA projects
Course Details
Your CC&C training, led by real practitioners and guided by 20 Years of TOGAF training experience, includes the following:
The Open Group Exam Voucher
Live Course Delivery Facilitated by an Experienced Enterprise Architect
Benefit of 20 Years of TOGAF Training Experinece
Delivery in Either a Traditional Classroom or Live Online
In-Course Candidate Support Materials
A Range of Self-Study Materials
After-Course Individual Support for Exam Prep and General Advice
Ask us about tailored corporate training aligned to your timetables and business focus.
Examination
Certification is achieved by passing two examinations (taken separately or as a combined examination).
Upon course completion, each candidate receives the exam voucher and instructions on how to schedule their exam time and location. Exams can be taken online or in an authorized Pearson Vue test center.
Examination Name: TOGAF EA Foundation
Examination Type: Multiple-choice
40 questions/60 minutes
Supervised: YES
Open Book: NO
Examination Name: TOGAF EA Practitioner
Examination Type: Complex multiple-choice scenario-based examination
8 questions/90 minutes
Supervised: YES
Open Book: YES
Individuals who have obtained the TOGAF® Enterprise Architecture Practitioner certification and who have satisfactorily completed the TOGAF Enterprise Architecture Practitioner Learning Studies (included in this training) will then be eligible to apply for the TOGAF Applied Practitioner badge.
Quick facts

Duration
4 Days
Delivery Method
Virtual Online
Prerequisites
None

Exam Voucher

Yes
Certification
Yes
Want to Upgrade Your TOGAF 9 Certification?
TOGAF 9 certified? You can upgrade to TOGAF EA Practitioner certification with a two-day course and Practitioner exam. Ask us how.